Project Tracking
Are you looking for the best project management tracker for you or your company? You are in luck! We know project management can be difficult, and not having the right project management tracker can make life so much harder.
Good project management, especially these days, requires businesses to track down absent deliverables, analyzing project processes that need to be put in place to deliver on deadlines, and communicating information to team members and clients so everyone can stay up to date.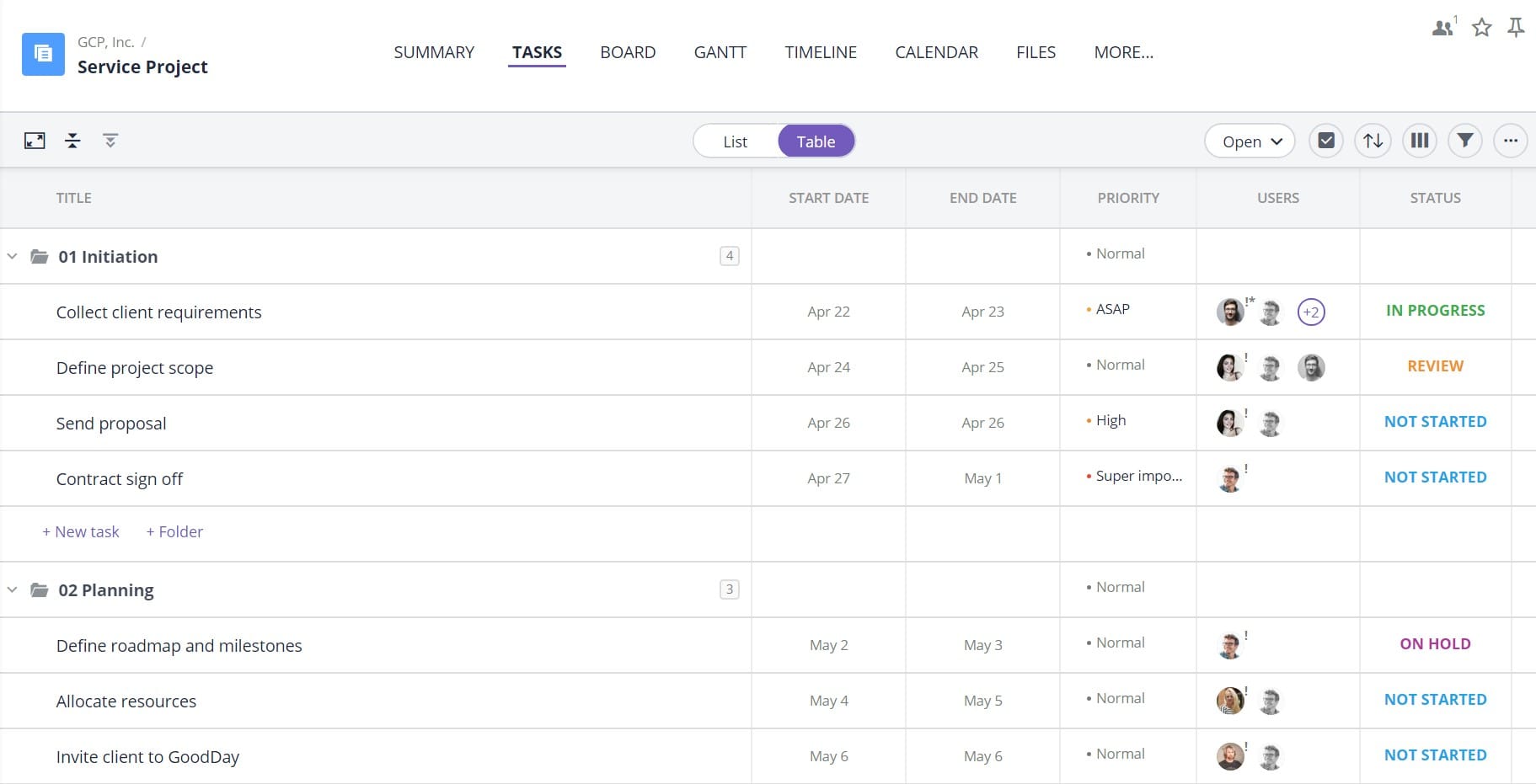 Manage everything at once
Your project planning, tracking, and management have never been easier. With remote work becoming one of the most popular ways of managing a business, it has never been more crucial to find the perfect project tracker template.
We know what it takes, we do it every day, and that is why we created this template. With GoodDay, you will be able to plan, manage, execute, and deliver beyond your imagination. Gone are the sleepless nights stressful days because of failed project process trackers.
We adapt to change
This year brought many changes and showed us just how important it is that we should be able to adapt to change. We know projects change, plans change, and goals change. That is why we made it possible for you to change your project tracker template to fit your company's needs.
This is the starting point for the perfect project tracker that provides you with all the right tools to adjust your workflows as needed.
Take out the risks of failed projects
You can easily manage your team's workload with the project tracker template. See how much work each team member has and if they can take on additional work. Managing your team's work capacity will take out the risk of failed projects that can hurt your business.
The greatness of using Project Software
If you are still not convinced of the importance of project tracking software and are still currently presenting project information through something like PowerPoint, you understand the time-consuming nature of pulling all the slides together. You have to adjust graphics, fonts, and colors. This all takes a lot of time, which a successful business may not have a lot to spare off.
How can project management software guarantee to make your life easier? Let's start with the facts; you will impress leadership and communicate better with stakeholders.
Time is of the essence
When it comes to project management tracking, time is important. None of us have spare time to create Powerpoints or Word documents for big time-consuming projects. By using a centralized format for your project tracking, you will reduce a lot of project management time.
Improve communication
With the right tool, your team and business partners will learn to speak the same language. PM software will allow direct data imports and report generation for easy distribution. Your project teams can present their work more effectively to leadership, peer groups, and key stakeholders.
Improved Project Tracking
Using professional project management software will allow you to style your roadmap with swimlanes and colors that add clarity. You can highlight key points, differentiate information, and make your presentation pop. You can give your team access to your roadmap, and they can gain a sense of how daily work contributes to the project's success as a whole. This is all forms part of successful project tracking.
Put the fun back into project tracking
Who said a project tracker can't be fun to work with? With this template, you can track simple or small projects like your daily to-do list or even collaborate with team members in real-time. It would be like you are back in the office again! Collaborate with team members on multiple projects with tasks, subtasks, and even project budgets.
This project tracker can act as the "meeting place" for your team by creating different views of your project management workflow. Each team member can be focused on the status of their tasks, while also keeping executives up to date on the overall project status and project timeline. Team leaders can generate new projects and associated tasks with just a simple click of a button. Team status meetings have never been easier!
Grab a copy of this template today and put the fun back into project management and tracking. You will be able to manage and track your projects with the click of a button.
Template details
Summary
Task List
Task Table
Board
Gantt Chart
Workload
Calendar
Files
NEW
IN PROGRESS
ON HOLD
ARCHIVED