Kanban Board
Kanban software is a great way to manage your project's workflow and tasks visually. It is like a digital board with sticky notes and structured into cards and columns. The tasks are represented as cards, and these cards are organized by columns according to their status and progress. This makes it easy to keep track of how the project is progressing.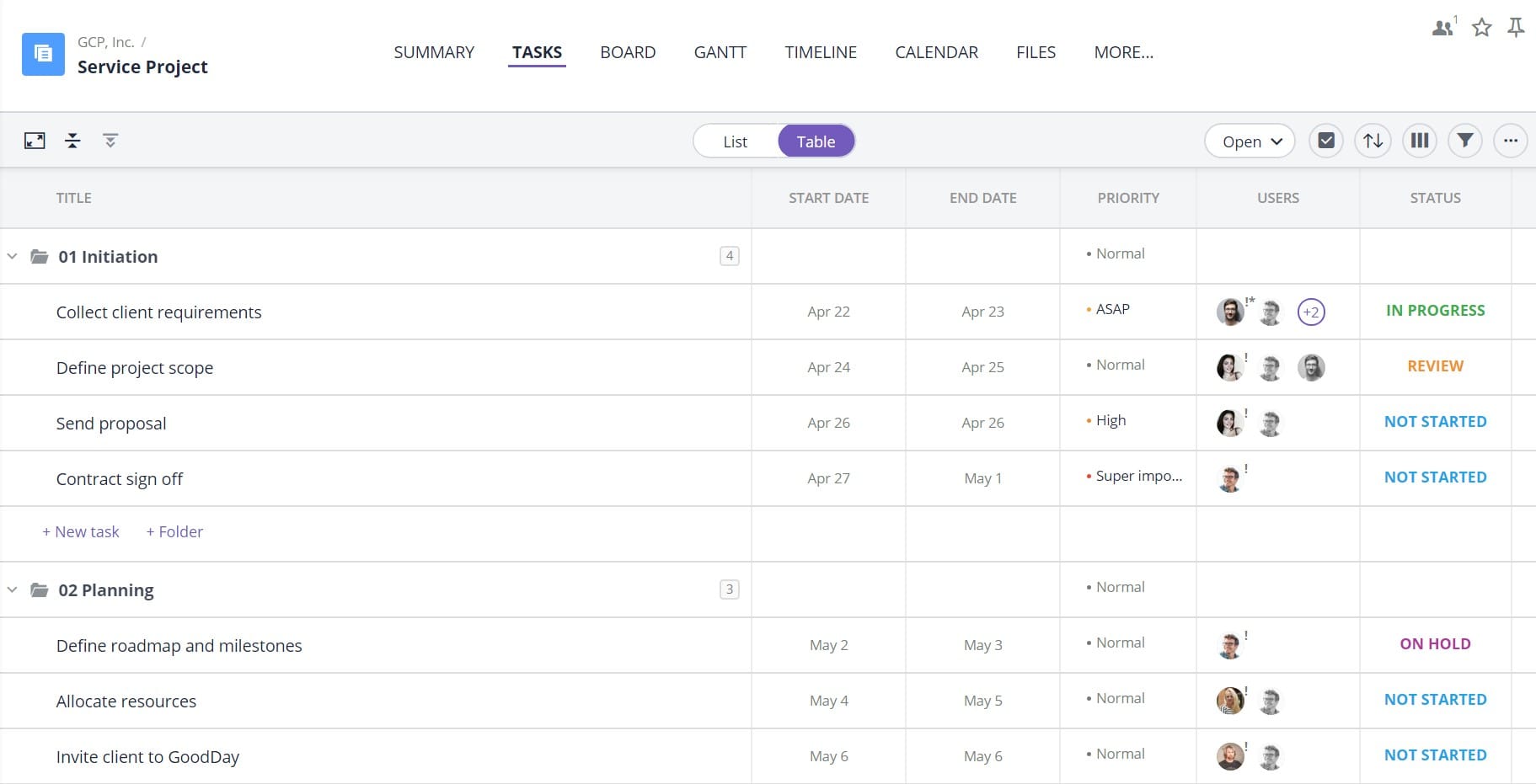 History
The history of Kanban dates back to the 1940s when it was first introduced by Toyota. It involved the Just in Time (JIT) manufacturing process. The concept behind it was to keep enough inventory to meet customer demand and get rid of the excess inventory for enhancing efficiency.
Who Can Use Kanban Board Software?
GoodDay Kanban board is a versatile tool designed to help any organization looking to maximize the efficiency of their teams working on different projects.
Today, Kanban project management software is used by many organizations for managing their projects more efficiently. Although it can be used by any big organization, it is widely utilized by software development companies to strategize the software before releasing it. The JIT principles of Kanban give agile software development teams flexible options and allow them to have better focus and faster output. In addition, Kanban software is also quite popular among engineering and product teams.
Why Use GoodDay Kanban Software Template?
With the GoodDay Kanban management software template, you can define a clear process for your workflow and ensure that every task goes through every defined stage. It gives your teams the ability to limit their work in progress to minimize bottlenecks. In addition, Kanban boards allow the team members to keep track of every task and workflow at every point in time. Using this Kanban template, teams can maximize their efficiency and improve their production process continuously for better and faster outcomes.
This template can be used by both small and large teams and provides them an easy way to visualize their work and make changes instantly. Every member of the team is aware of what other members are working on, the progress of the project, and the deadlines. Kanban board eliminates the need of using a whiteboard and sticky notes and you also don't have to deal with the hassle of going through tons of project documents, emails, and messages separately to keep yourself updated.
Teams can use this software to assign tasks to each member individually while still collaborating on a single board for a holistic view. One of the best things about using this GoodDay Kanban template is that any member of the team can access it anytime from anywhere. This makes it a great tool for remote and virtual teams as well. Moreover, with its easy to use interface, teams can learn how to use it very quickly.
GoodDay Kanban Software template can also connect to your calendar and allows you to edit your card sizes. You can also expand and collapse the card details, edit task details, move them to other projects, etc.
Key Features of GoodDay Kanban Management Software Template
With the GoodDay Kanban template, you can view tasks in a list or table format, and it also displays the status of the tasks such as New, In progress, On hold, or any other as defined by your in GoodDayetc.
One of the key features of this template is the Board View which is a purpose-built Kanban board. This board consists of a number of useful and advanced options:
Cards Size Options
The board comes with small, medium, and large-size cards so that you can see more or less information on each task.
Project Hierarchy
With this feature, all your subprojects along with their tasks can be viewed in a tree-like hierarchy for easy visualization.You can also use the handy folding and drag and drop options.
Row and Column Folding
Managing a complex project is easy with foldable rows and columns.
Task Organization
You can order your tasks using the drag and drop feature, transfer them between columns, and also move them to other projects.
Card Grouping
Group your cards by assignee or status, etc. to make things easier.
Various Filters
Use filters such as assignee, subproject, dates, etc. on the tasks list to find a desired task faster.
CSV and PDF Export Support
Export your data with defined filter and column settings to CSV or PDF file.
If you're looking to manage your projects more efficiently and maximize the efficiency of your team, utilize this easy-to-use GoodDay Kanban Software template today and instantly notice the positive change in team organization and performance.
Template details
Board
Summary
NEW
IN PROGRESS
ON HOLD
COMPLETED
CANCELLED