Task list
It is no secret that a good task management system can simplify how you manage your organization's projects, workflows, and your team's priorities and performance.
This means that task management is more than just getting tasks completed. Effective task management includes many aspects, from clearly defining tasks, to monitoring progress, and all the way to reporting on team task management agility.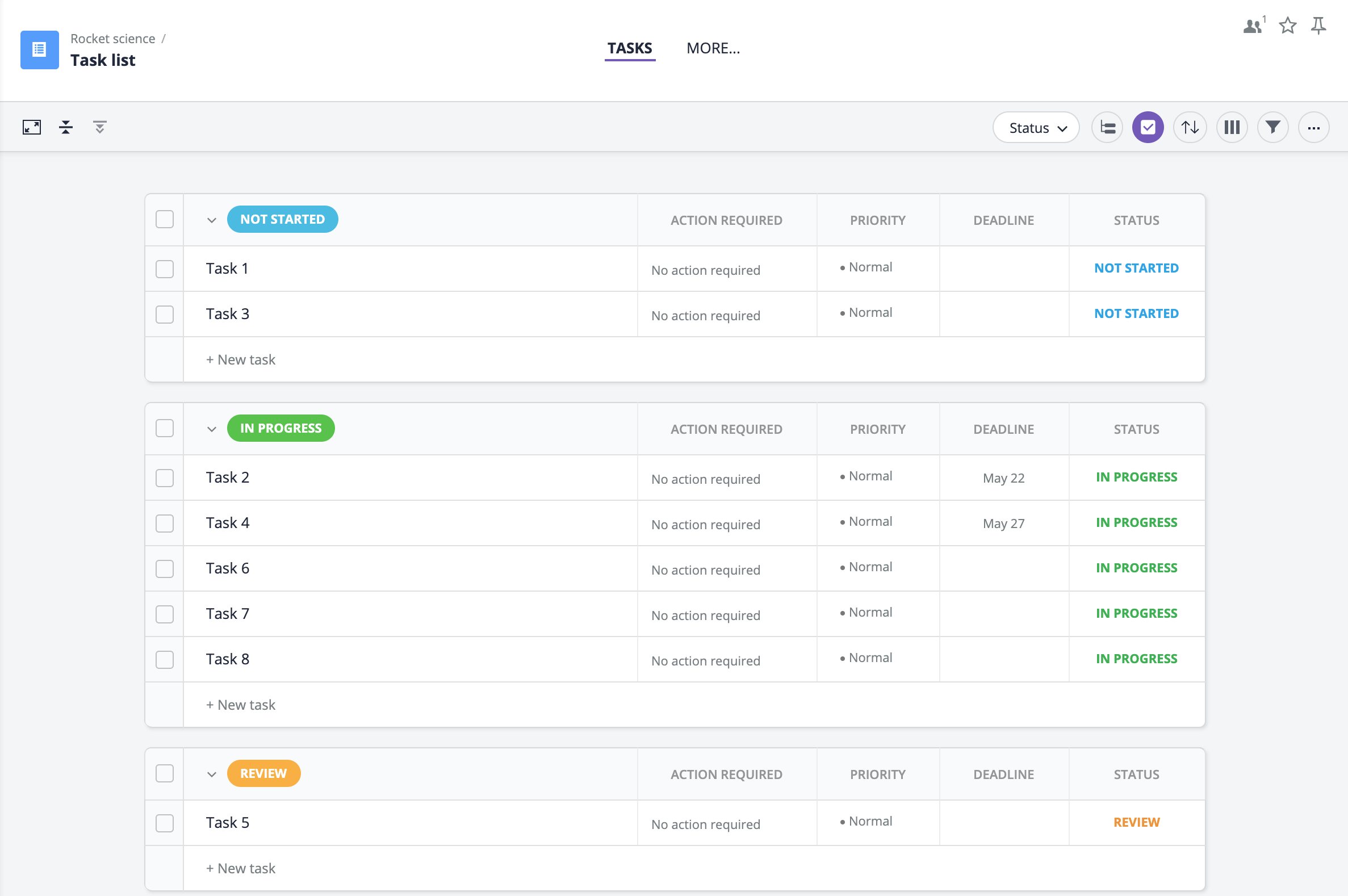 Good task management process includes, among other things, being able to:
Create tasks easily and quickly
Assign tasks to accountable team members
Set priorities, deadlines, key milestones
Manage subtasks if required
Juggle task priorities with team member availability and schedules
… and much more!
Task management software helps you plan tasks and orchestrate their execution, on time and to scope. Good task management systems make this process effective, so that throughout the entire lifetime of the task all team members are aligned and organized, collaborating without miscommunications to complete the task.
To go beyond a simple to-do list, you will need a sophisticated task management system. The best online task manager will keep you organized, help flag bottlenecks, delays, and coordination issues, keep your team on the same page, and let you see the big picture while being able to dig into all the details of the task itself and the collaboration process around its execution.
GoodDay's task management tool was designed to help teams offload their task management duties to a system that is purpose-built to do just that - effectively manage tasks. GoodDay will help you focus on high-priority tasks, juggle multiple priorities with a full view into your team's workload and goals, and complete tasks faster and with less stress. Even better, you will finally be able to tie your team's day-to-day work to business outcomes and budgets, eliminating the risk of going over budget or delaying important deliverables, because GoodDay creates transparency around both planning and execution and helps you manage all task requirements in one user-friendly software tool.
Last but not the least, GoodDay's online task manager is very easy to use. It is easy to learn, rollout, and further customize to your future or more advanced needs. It offers a ready to go Task List template that can be launched with a few clicks to get your team using GoodDay Task Lists for task management.
Who should use GoodDay task tracking software?
Our task management tool has been designed to quickly help any team or department, in any industry, and within companies of all sizes, with task management processes and workflows. Project managers are a great example of users that greatly benefit from GoodDay's task management capabilities, as they can focus on helping their teams get work done vs. battling with the complexity of legacy project management systems. Remote teams are another great example; GoodDay connects teams all over the globe, focusing experts in their functional fields on collaboration to reach business goals. Whether you are in IT, HR, marketing, finance, legal, product management, sales or any other department, working at the office or remotely, GoodDay task management tool will make a positive impact on your productivity and agility.
Benefits of using Task List Management template
Tasks can be easily prioritized according to urgency or importance.
Every task is important, but they are certainly not equal. For example, finishing a client's job is more important than deciding on the theme for the year end office party. With a detailed Task List template, the most important tasks will be prioritized and clearly visible so that they can be done immediately.
The team can organize their work based on their needs
Every day you and your team have to handle multiple projects. It would be close to impossible to keep track of every single task, beat the deadlines, manage the entire team, and track their progress without a dedicated daily task list template for the work to be done.
The good news is that GoodDay's task management system offers the functionality you need to become and stay organized. Your deadlines will be met and tasks will be tracked efficiently.
GoodDay provides you with a centralized platform for organizing, prioritizing, and assigning tasks.
Your complex projects can be broken down into small manageable ones to increase efficiency.
With the task management tool and the Task List template, goals and milestones can be set for a task, its deliverables can be tracked and the deadlines will be met.
You can easily balance workload and track progress.
Key Features of GoodDay Task Management System
Task List template provides a focused view into tasks with ability to customize to your needs as required
Progress Tracking allows you to monitor the process as tasks are being completed.
Due Date and other task date fields help to set clear goals and timelines for every team member.
In combination with the Action Required feature, Task Messages improve collaboration efficiency and agility.
Task Checklist tracks smaller work items so you do not need to break down the large tasks into subtasks.
Tags help organize your work better. Tags allow to classify, mark and highlight tasks so you could easily implement custom workflows.
Task Attachments allow you to share important files and attachments with your team, all in one place.
Custom Fields are easy to use and make the customization possibilities truly endless.
Task Dependencies allow you to define related tasks, manage scheduling and organizing them quickly to create realistic project execution plans.
Recurring Tasks feature is a real time saver when you need to schedule multiple instances of the same repeating task on a daily, weekly, or monthly basis.
Subtasks effectively split large tasks into smaller ones so that they can be assigned to multiple team members who can then work on them at the same time.
GoodDay daily task list template for work is your perfect first step towards becoming more productive as a team and a solid stepping stone on your journey to better project management. To help your teams adopt the new task management tool quickly, GoodDay was designed with user experience in mind and our templates and features are being carefully crafted to match your key use cases and requirements, with the added benefit of easy customizations. Try GoodDay Task List template for your task management needs today and feel the difference right away!
Template details
Task List