My Work
Keeping track of all your work is not easy. GoodDay My Work is a perfect dashboard that will help you stay on top and on track with all your projects.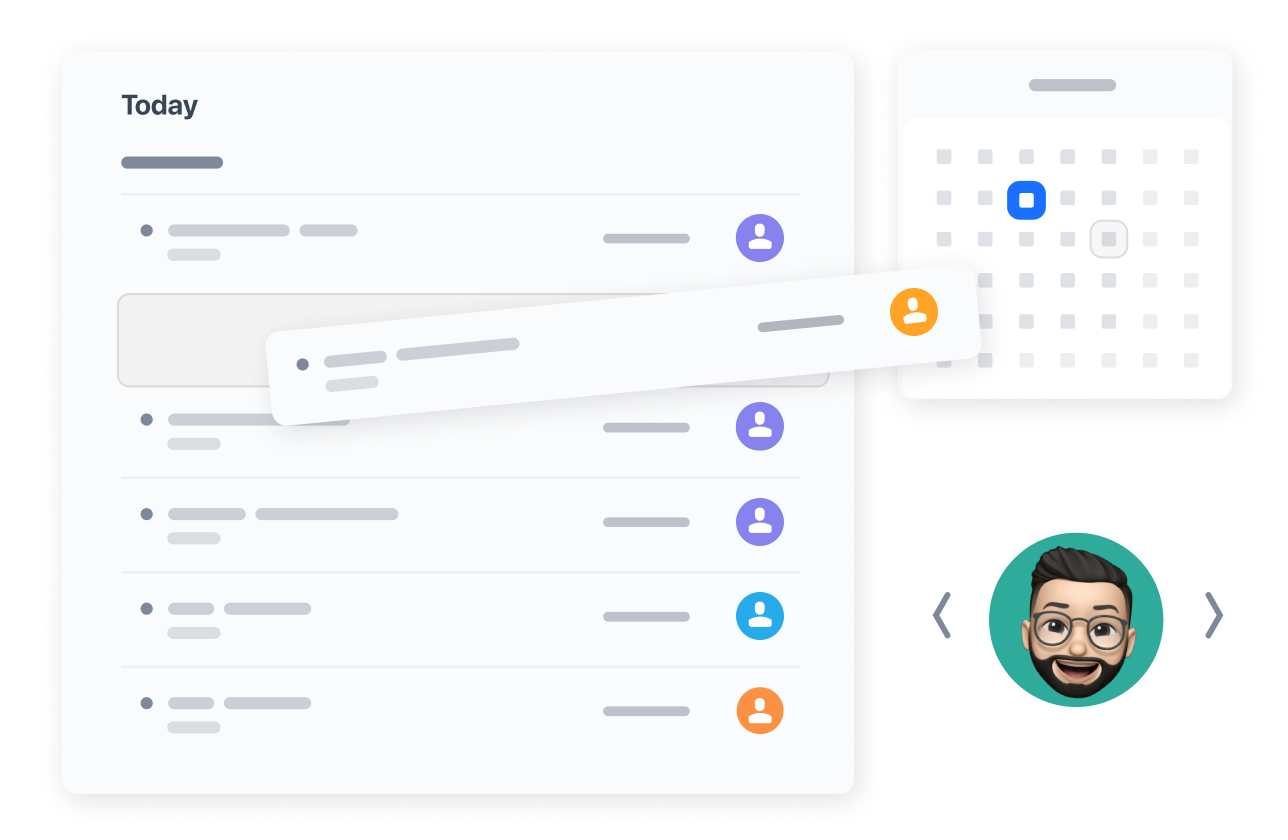 Introduction
It is a challenge to keep track of all the different activities during project execution. GoodDay helps teams of any size, in any industry, and with projects of any complexity become and stay efficient and productive. With this in mind, we created My Work module which solves some of the key team members' challenges:
Helps keep track of what you need to do at any point of time so you don't get lost in all your projects and tasks.
Presents all your current work items on one screen with all your planned items for easy planning and prioritization.
My Work is the ultimate day-to-day work dashboard that displays and helps organize all your important work items: tasks, deadlines, reminders, meetings, events, mentions, etc. With this view you don't need any additional tools or apps to maintain your work.
My Work Layouts
My Work supports various work item types and you are free to select which item you would like to be displayed in the Settings.
GoodDay lets you choose between any of the three great layouts for My Work: Board, List and Split. You can switch between the layouts in the upper right corner of your screen.

Board
Board layout displays all your work items grouped by date. It is a great view when you don't have too many items and want to see, plan and schedule your work for the next few days.

List
List layout works best if you have a lot of work items or you would like to be able to see more details (fields) for all your work items.
All new items appear in Inbox. To see work items planned for Today or another date, click the Today button or a specific date in the calendar.
The Upcoming screen shows the list of all the work items planned for the next few weeks.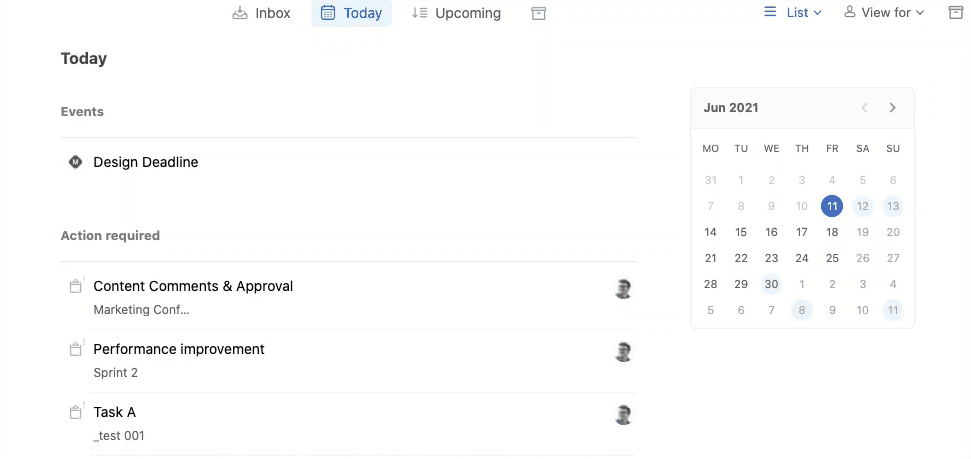 Split
Split layout is a great view when you need to see a specific date and Inbox at the same time. It's especially convenient when you receive new updates or action items during the day and don't want to switch between Inbox and Today.

How it Works
My Work module is very simple to catch on and becomes an irreplaceable tool in your daily work, scheduling and planning.
Inbox
All the new work items that require your attention appear in Inbox.
You can review work items in your Inbox and take the necessary actions (e.g. reply / delete notification) or schedule each one for a day you plan to work on it. Use drag and drop to simply move an item to a date in the calendar or a date column when in the board layout.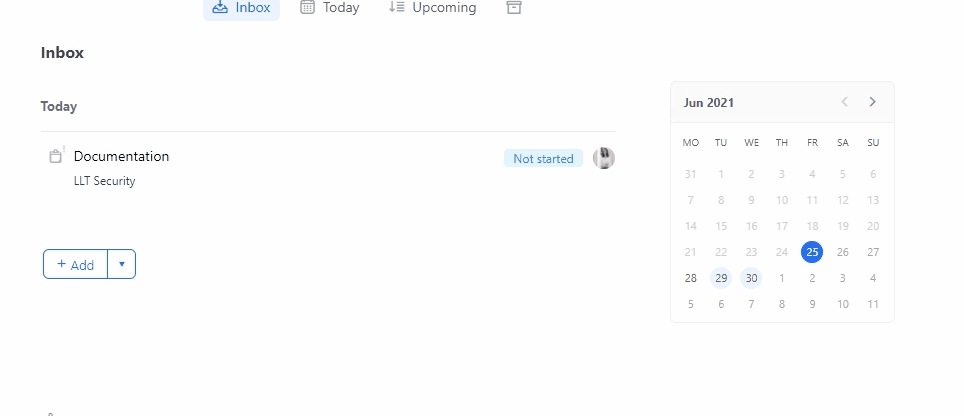 By default, all work items are grouped by the date you receive them.
*Try to keep your Inbox empty most of the time by scheduling your work and decluttering incoming tasks. It will greatly improve your productivity, help with short-term work planning and make your accurate work schedule visible to other users.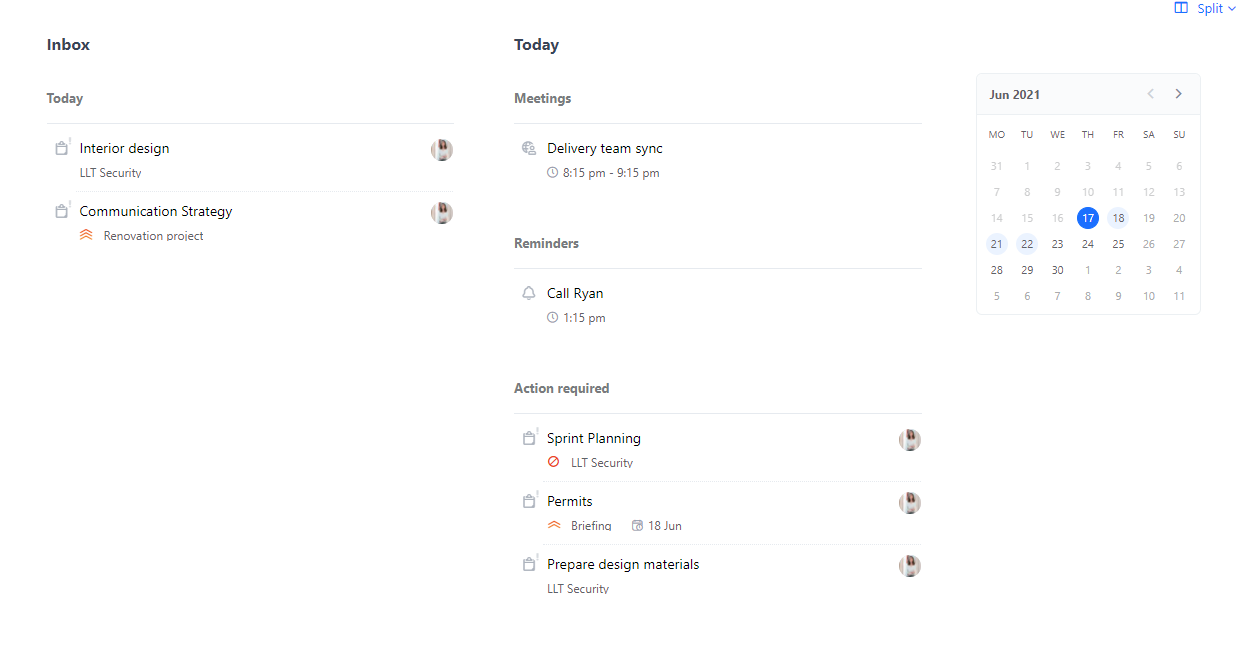 Work scheduling & Prioritization
One of the most important functions of My Work is the ability to plan all your work activities right from this view. With just one screen, you can view your availability and all to-do items which helps to plan your work day properly.
In the List/Split layouts, you are able to schedule work items by drag-and-dropping them into the calendar or by clicking the schedule button on the card.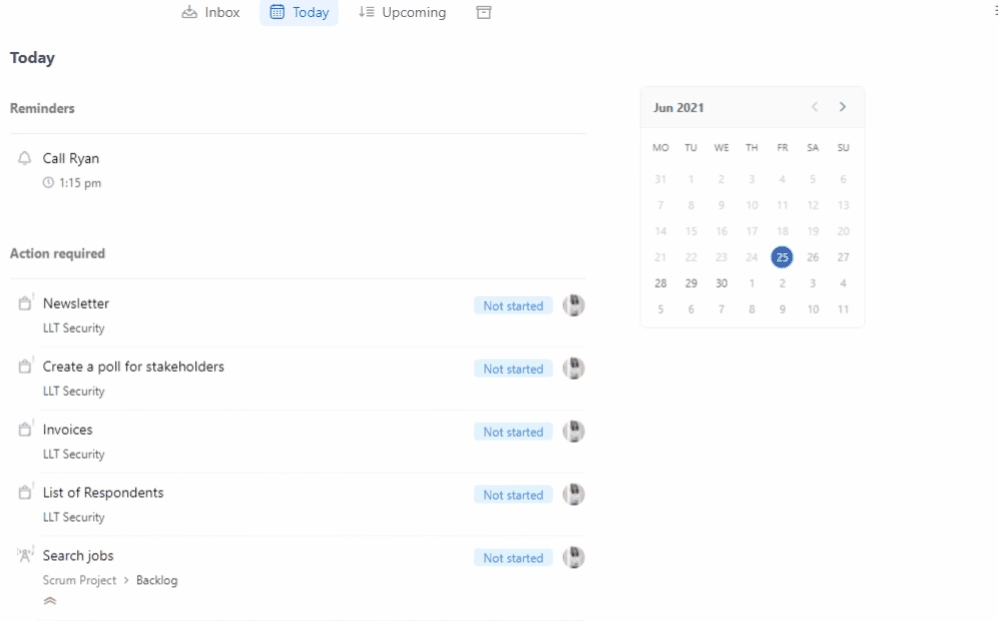 In the Board layout, you can schedule your work by drag-and-dropping cards between the date columns.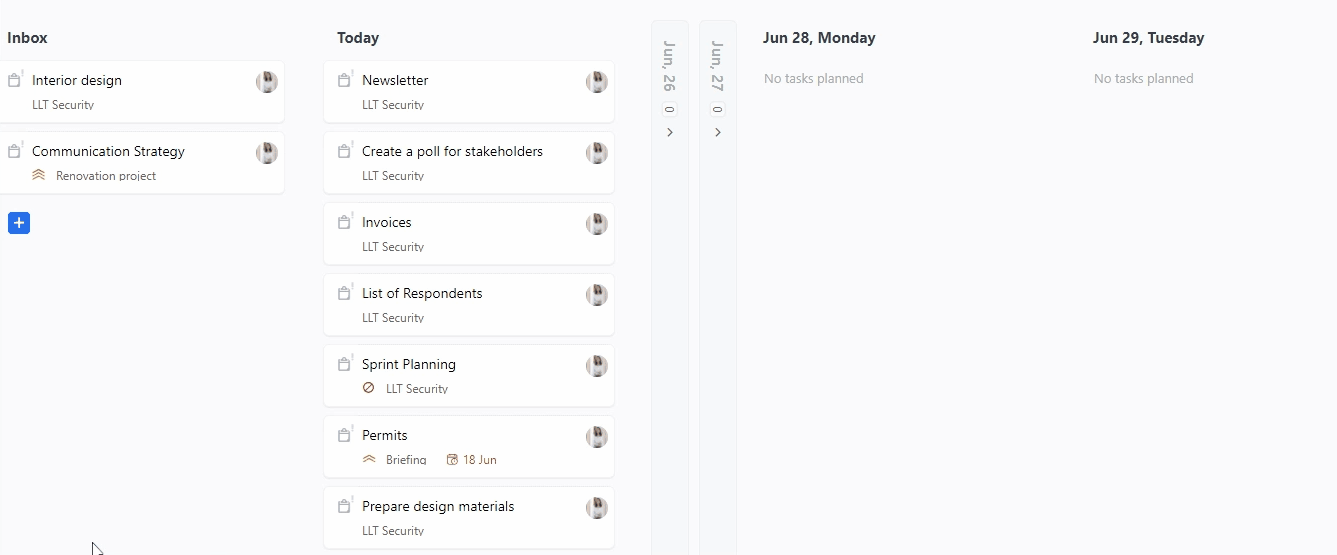 If you don't have a specific date for a task yet, move it to the Someday tab to return to it once you have time.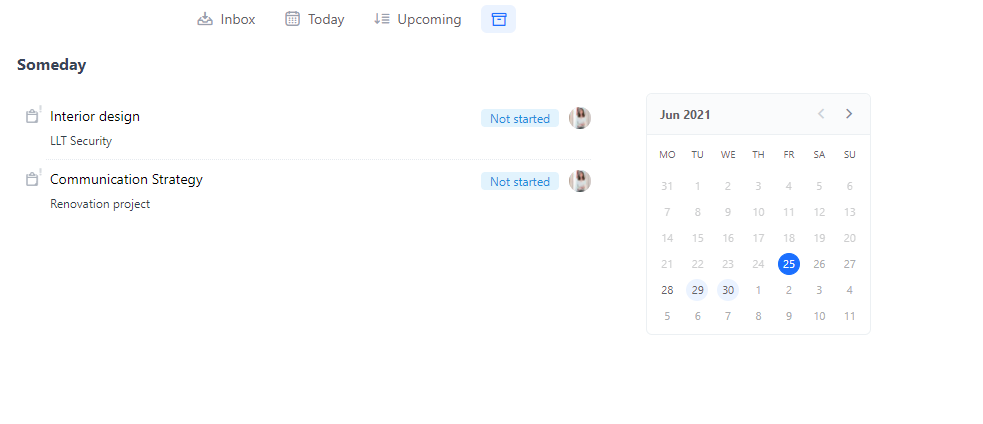 You can also rearrange work items within a single column to define the order in which you will work on them or their priority.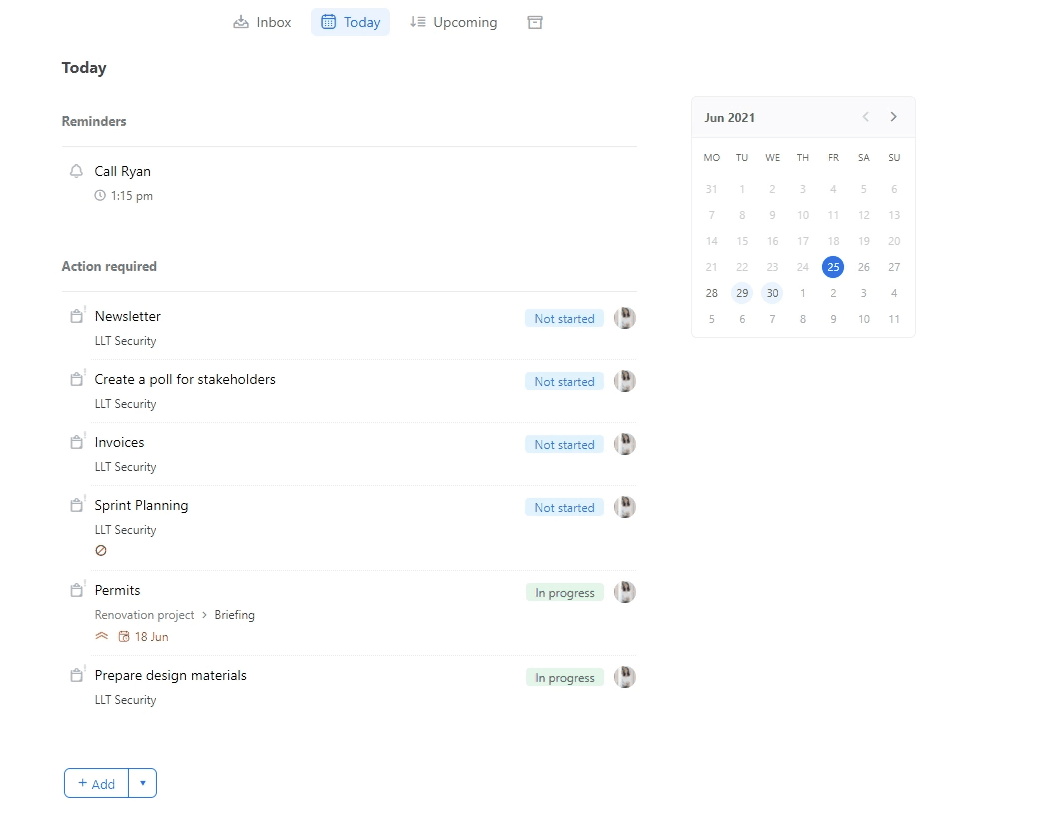 Today
After your Inbox items are scheduled, you can move to the tasks planned for the current day (Today).
The Today screen shows everything planned for your current work day. From here, you can see, plan, prioritize and complete your work during the day.
If you didn't get to accomplish all the planned activities, you can reschedule them for another day. If you leave an unaccomplished item in Today, it will stay in Today until you close it.
To switch to another date, simply click it in the calendar.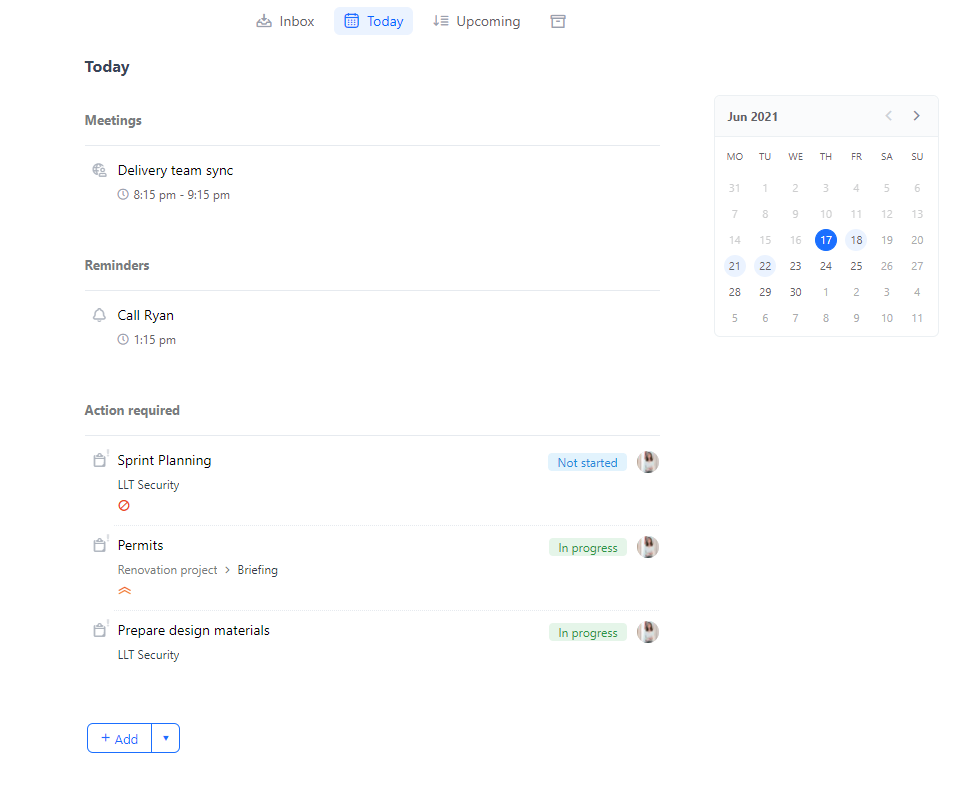 Items completion / Displayed items
My Work module displays only what you have to react to, all completed items or those that don't require your attention and action will disappear from My Work.
For example, you completed your part of a task and changed the Action Required user. This task then disappears from your My Work view and will be displayed in the My Work view of this user. This functionality helps keep only what is important and relevant in your view.
View for
My Work dashboard allows accessing and displaying other users' My Work. To switch to another user's My Work, click the View For button and select a user.
*To access someone's My Work dashboard, you need to have manager access to this user.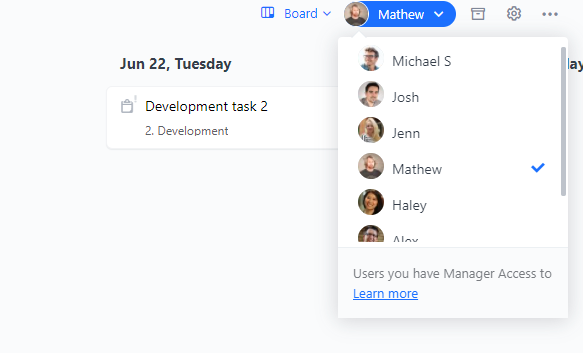 When viewing other users' My Work, you can use the same functionality as you have for your own My Work, including scheduling and prioritizing tasks.
This is a handy feature in case you need to see and manage your team members' priorities and schedules for the week. It's also helpful during meetings to quickly coordinate and manage team plans.
Customizing My work
Modify work items
You can always customize the work items displayed in My Work through Settings.
For example, if you want to focus only on your Action Required items, you can switch off the Assigned tasks or/and disable events.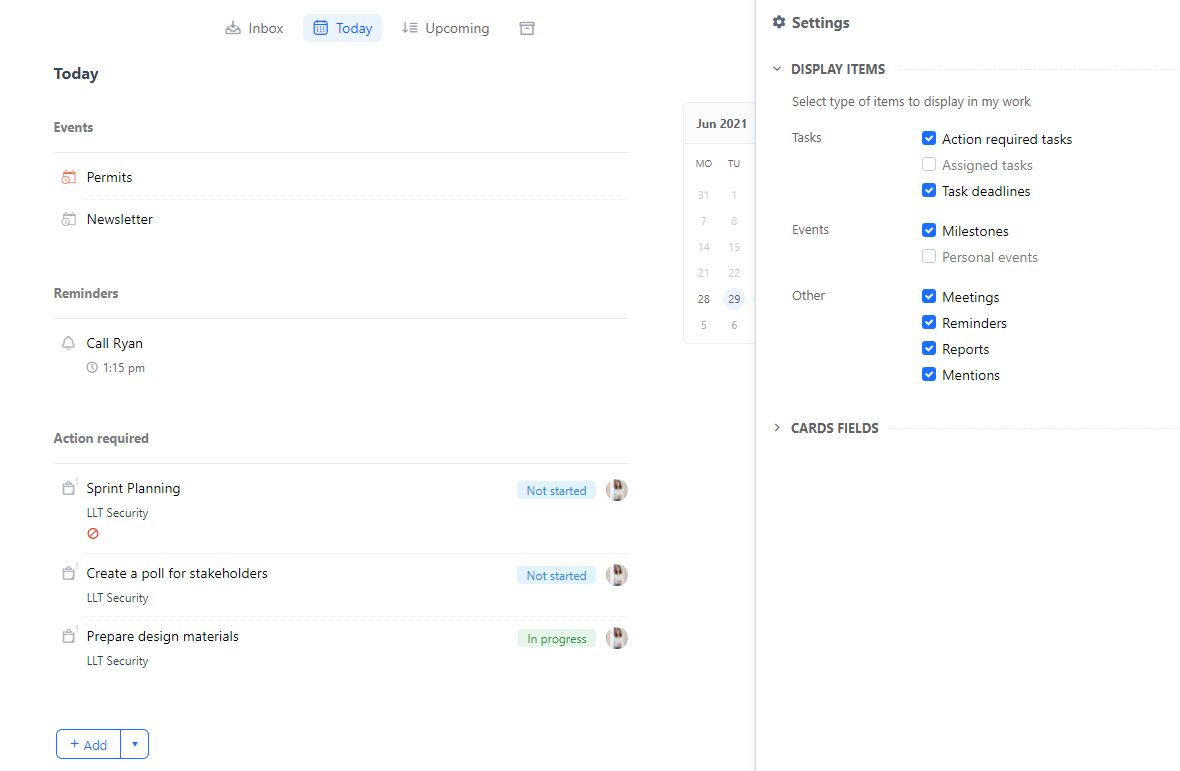 Customize card fields
You can also customize the card fields for your work items by enabling/disabling the fields in My Work Settings → Card fields section.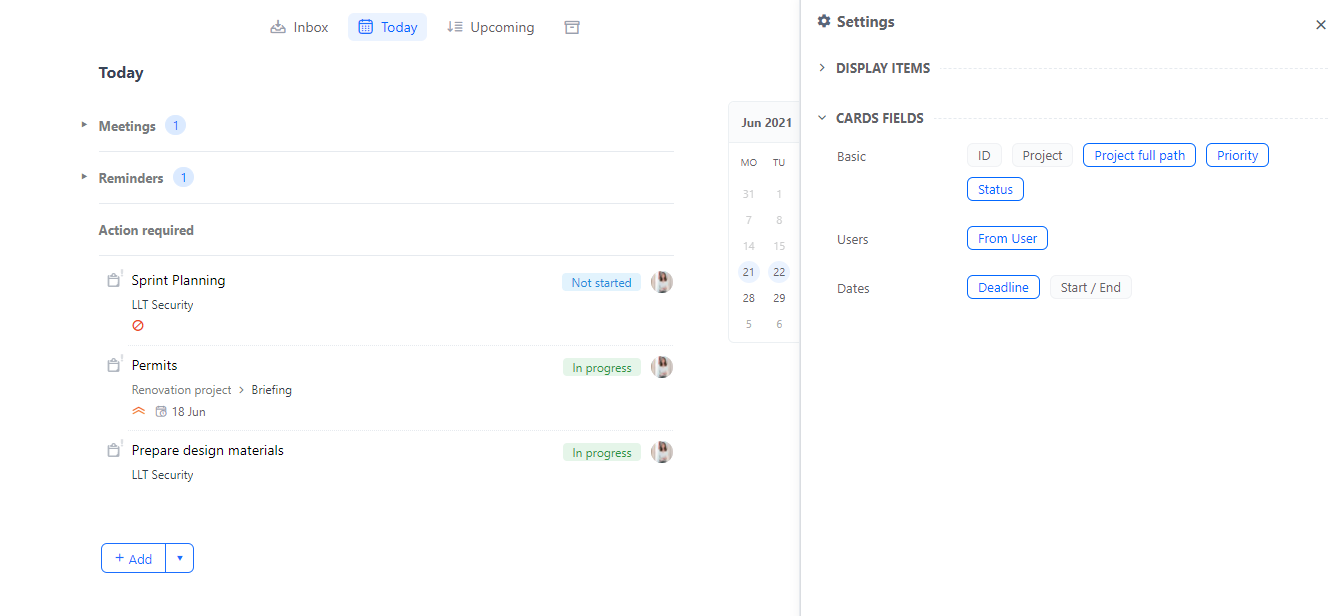 Inline new items creation
You can create and schedule new work items directly from any My Work layout. For example you are able to add new tasks or schedule a meeting and invite other users directly from the My Mork view by clicking the Add button.