Email Marketing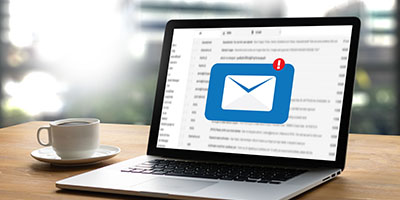 Modern marketers are facing the ever-increasing expectations to deliver measurable results and ROI on marketing investment, while their budgets are under ongoing downward pressure. At the same time, there is no shortage of tools and tactics that marketers can use to generate brand awareness and demand. Email is one of the go-to tactics for digital marketers in any industry and in companies of all sizes, and that is why marketers should look for any and all ways to improve their email marketing campaign management practices, from crafting the right message for the right prospect at the right time, to selecting the most efficient email marketing planning tool.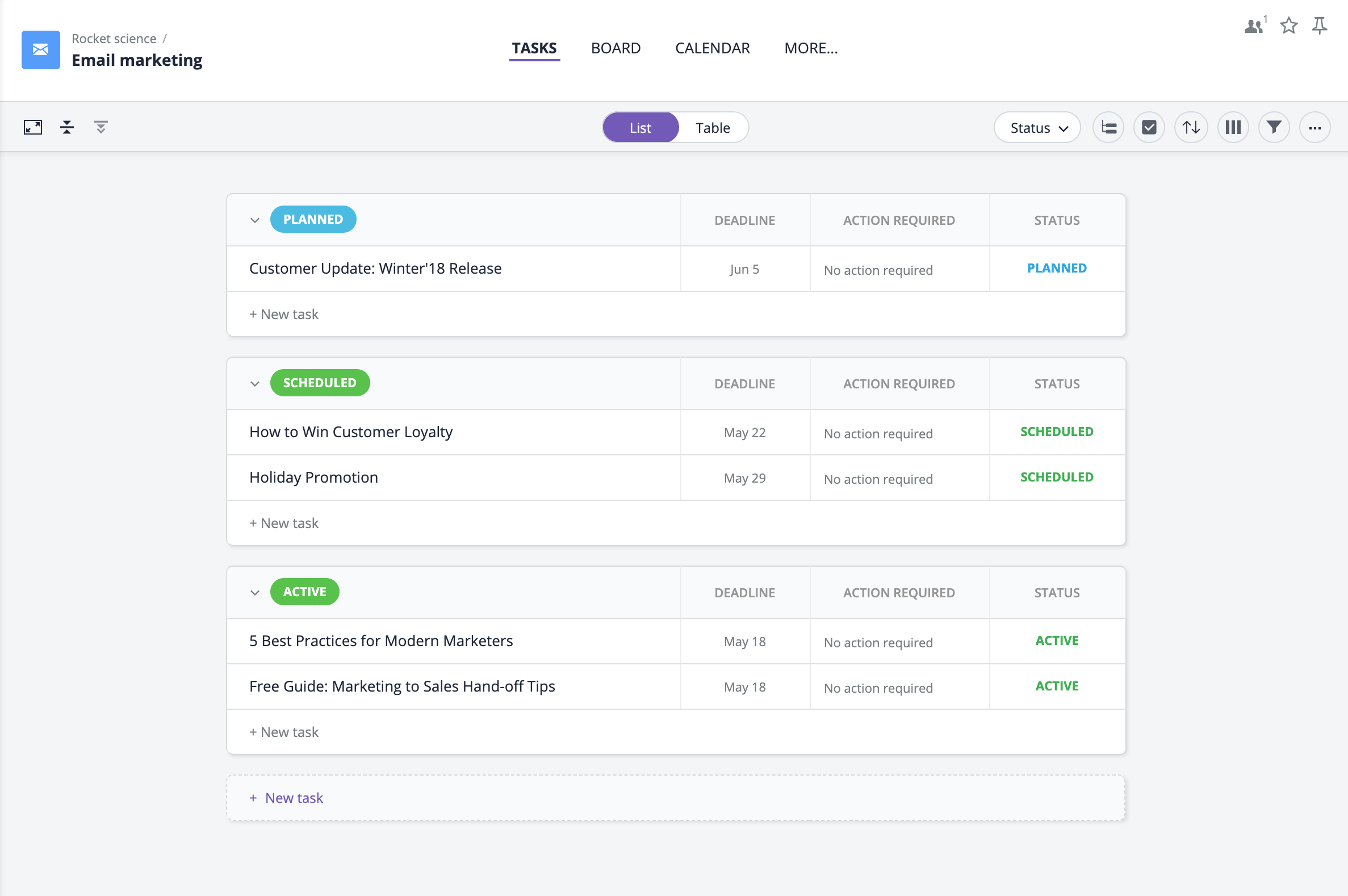 GoodDay's is the work management tool for marketers that helps get and stay organized, across many marketing tasks and tactics. GoodDay's Email Marketing Calendar template is of the tools that has already helped thousands of marketing teams get started with a better project management process quickly and effectively, tacking email marketing organization as one of the most challenging areas. GoodDay Email Marketing template will help you centralize and organize all your planning and execution activity.
How GoodDay's Email Marketing Template will help you:
Planning: email marketing managers and other stakeholders contributing to content or scheduling will collaborate on the plan all in one place, with user-friendly views, customization options, tags, color-coding, and much more
Visibility & transparency: anyone on the marketing team will be able to see the plan and progress of your email marketing initiatives, to connect to tactics another team may be running in parallel.
Organization: content and assets used in email marketing campaigns will be well-organized and easily accessible at any time now and in the future.
Collaboration: the template makes it easy for email marketing managers to assign tasks to designers, writers, marketing operations, and other stakeholders.
Who should use this template?
GoodDay Email Campaign Calendar template works great for any marketing team that uses email marketing as part of their awareness or demand generation strategy. Your marketing team can get started with the template in a few clicks and then further customize it to any unique needs you may have.
Our template helps marketing managers to break down projects associated with email marketing execution into tasks, assign them to the relevant team members, visualize the plan on the calendar, track how the campaigns are performing, and review the results of the campaign to get insight for future improvement.
Benefits of using GoodDay Email Marketing template
Well-planned and perfectly organized email marketing calendar
GoodDay's Email Marketing template with its built-in campaign calendar will help you save time and let you focus on what makes email marketing successful - audience, messaging, targeting, testing, analytics, optimization, and ongoing experimentation. You will also save money by minimizing the number of tools that your team uses for project planning.
Improved teamwork through better collaboration and accountability
Marketers should not waste time and energy on managing files, spreadsheets with project tracking information; they should focus on driving business results. That is why GoodDay is so powerful - it saves time on managing projects - from email marketing campaign planning to execution - while improving collaboration and accountability. Consider just a few examples of what your team will gain by using GoodDay to manage email marketing projects:
Complete transparency within the marketing team
Better collaboration with other departments if involved in email marketing
Easy task assignment and progress tracking
Visualized and clear campaign plans with tools to adjust on the fly
At-a-glance campaign performance tracking and much more!
Email campaign performance tracking
GoodDay Email Marketing template is a perfect tool for the marketing team to get an at-a-glance view into how email campaigns are performing. While sophisticated reporting available in your team's marketing automation platforms is perfect for granular analysis and optimization, by tracking email program performance in GoodDay, you will quickly focus on key metrics and be able to share them with team members outside of marketing operations or with other business stakeholders.
Easy onboarding and flexibility to adapt to your processes
GoodDay's user-friendly interface will help your team get started in no time at all. The Email Marketing template is already pre-populated with sample data to help your team see what you can do with it. From here, you can easily edit the actual tasks and other information, customize fields and views, and make it yours to fully reflect how you run email marketing campaigns in real life.
Key features of GoodDay email marketing template
Calendar
An easy-to-use calendar is every marketer's best friend! With GoodDay, all your email campaigns will be visualized in a well-designed calendar view with many features to help you manage and plan campaigns: drag-and-drop functionality, filters, color-coding options, display preferences, and much more. By using GoodDay email marketing calendar, you will quickly see all your planned and completed campaigns in one place and will be able to share a familiar view with others.
List, Table, and Board View
Once you start using the template, you will quickly understand when the List view should be used and when you are turning to a more detailed Table view. Both views are customizable and flexible, and both views will show your email campaign status, what's planned, and allow you to create new email campaigns and edit all default and custom fields. The Board view will visualize email campaigns and related tasks in familiar columns and cards way, and with drag-and-drop you will probably make this view your favorite for email campaign status update or re-planning purposes.
Custom Fields
While email marketing is a common tactic and GoodDay Email Marketing Template already includes many fields that will let you track information that is quite specific to email marketing, we know that your team is unique. This is why GoodDay template can be fully customized and you can create any number of custom fields to capture and monitor even more data points around your email marketing programs.
Try GoodDay Email Marketing Template today and discover how quickly and easily you can solve your organization, collaboration, planning, and progress tracking challenges. This template is only your first step to using GoodDay across other projects and task types, give it a test now and start improving your marketing effectiveness.
Template details
PLANNED
SCHEDULED
ACTIVE
CANCELLED