Leads Management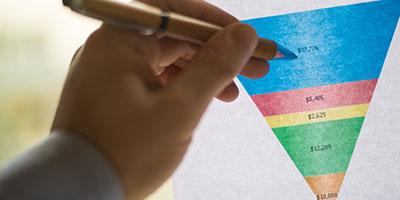 The process of turning a potential customer to make a real purchase of your product or service takes more effort than the typical advertising practice. Thanks to lead management software, a business can easily track and optimize its entire sales process, organize its potential clientele by individual qualities, turn them into buyers, and even generate reports and performance analysis for the whole process.
GoodDay's lead template offers your business everything you need from a CRM lead tracking software - from tracking leads without much effort to lead assignment and management for an effective and smooth sales process. This template is effective for a business that's struggling with turning leads into real customers or if you are looking to move to a digitized system of following up leads.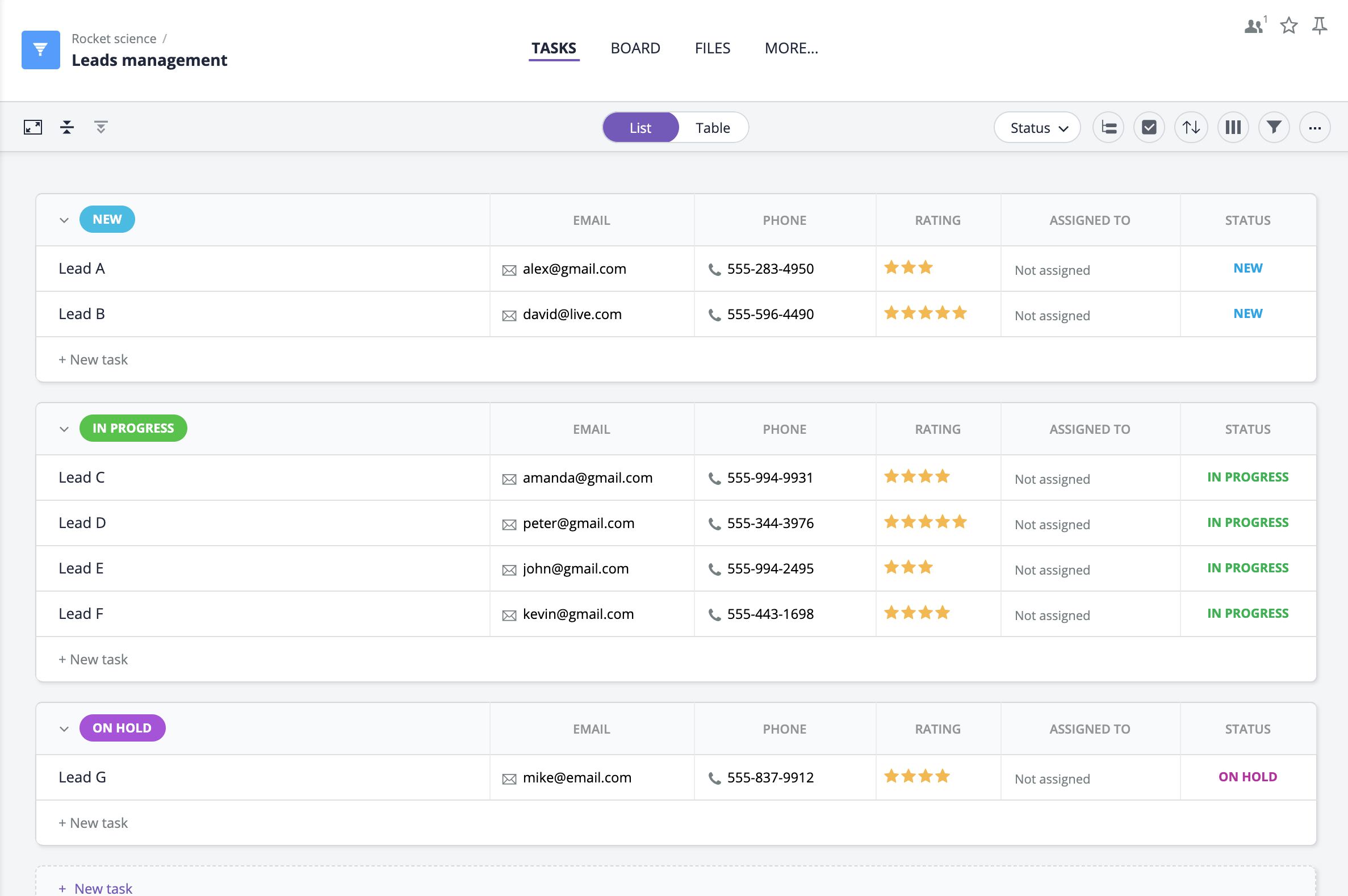 Template Features
Know Where Each Lead Stands
Take the guesswork out of the lead management process and save time by knowing where you stand with each particular lead. The template compacts all the leads into a list with automatic categorization. With this, you can easily tell each lead's status, whether it is a new lead, an opportunity, if it is on hold, unqualified, or in progress. Such categorization makes it easy for your sales team to know what leads to follow-up at any particular moment.
Customize Lead Information for Better Prioritization
Using the custom field, you can record your lead contact details, like their phone numbers and their emails, and note down any important information about each lead. The customization field also has a rating system for rating the prospects of each lead for better prioritization.
Manage and Track Tasks Effortlessly
With the spreadsheet-designed task table, you can view and manage your tasks and projects from one screen. Create a tree-like hierarchy for subprojects and the related tasks, customize the columns to your liking, and find any information without breaking a sweat using the inbuilt filtering system. Save time with the inline editing and bulk action features that allow you to edit information from the view tab and perform multiple actions with only one click.
Use the Board View for Visualization
Nothing makes lead management easier than a board view with all the essential information in one place. GoodDay's Board views make this possible, with simple and easy to understand visuals of how many leads you have at each stage of sales engagement. Better still, the ability to add custom fields allows you to customize the Board to meet your business. You can also save templates, so you do not have to create a similar one from scratch. If you have existing lead information, import the data in CSV, and get to work!
Why You Need a Lead Management Software
Every business requires a personalized roadmap for its products or projects for easy communication of its visions, goals, and objectives and the management of these projects.
Managing a lead from the prospect stage to the finish line requires coordination within the team, which can be challenging without the right tools. A roadmap software helps ease the process, among other projects, by ensuring everyone in the team is on the same page and reducing the time it takes one to plan the same manually.
With GoodDay's Gantt Chart, our roadmap software for businesses in need of a neater and straightforward project management system, you can plan any projects, manage tasks, events, subprojects, and even allocate resources.
For example, when it comes to lead management for a particular product, you can assign the project to specific staff, indicate the estimated duration the project is expected to run, project deadlines, and other requirements. This could be anything like assigning content management tasks that draw and follow up on leads, have timelines of how often to post content, ads management for the content, and create and analyze infographics for such content.
Your business's sales and marketing process's efficiency could be the lifeline between converting a lead into a potential buyer or the loss of a business opportunity. Lead tracking software makes this possible. With GoodDay's lead template, you can categorize each lead's status, contact information, prioritize leads to follow, and assign tasks to specific staff for smooth running of sales through the funnel.
Template details
Task Table
Task List
Board
Files
Phone
Email
Notes
Rating
Lead source
NEW
In PROGRESS
ON HOLD
OPPORTUNITY
UNQUALIFIED