Organizational Chart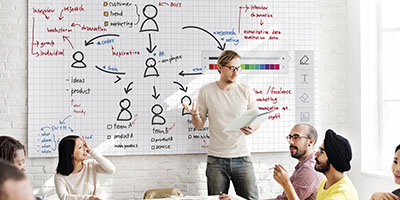 Let's admit it, running an organization, big or small, can be quite tedious. The job becomes extra hard if you don't have the necessary structure to run your day-to-day smoothly. Take communication, for example; if no one knows who to communicate with or who to involve into a project, nothing will ever get done. That's why having transparency around org structure is paramount to the success of an organization.
In this digital era, technology can make everything better. But you need the right tools to help you create, visualize and communicate organizational structure. GoodDay.work includes a template that enables you to create easy to follow, easy-to-understand organizational charts. An organizational chart template is purpose-built to fit all your needs and is perfect for all kinds of businesses, eliminating guesswork and communication breakdowns.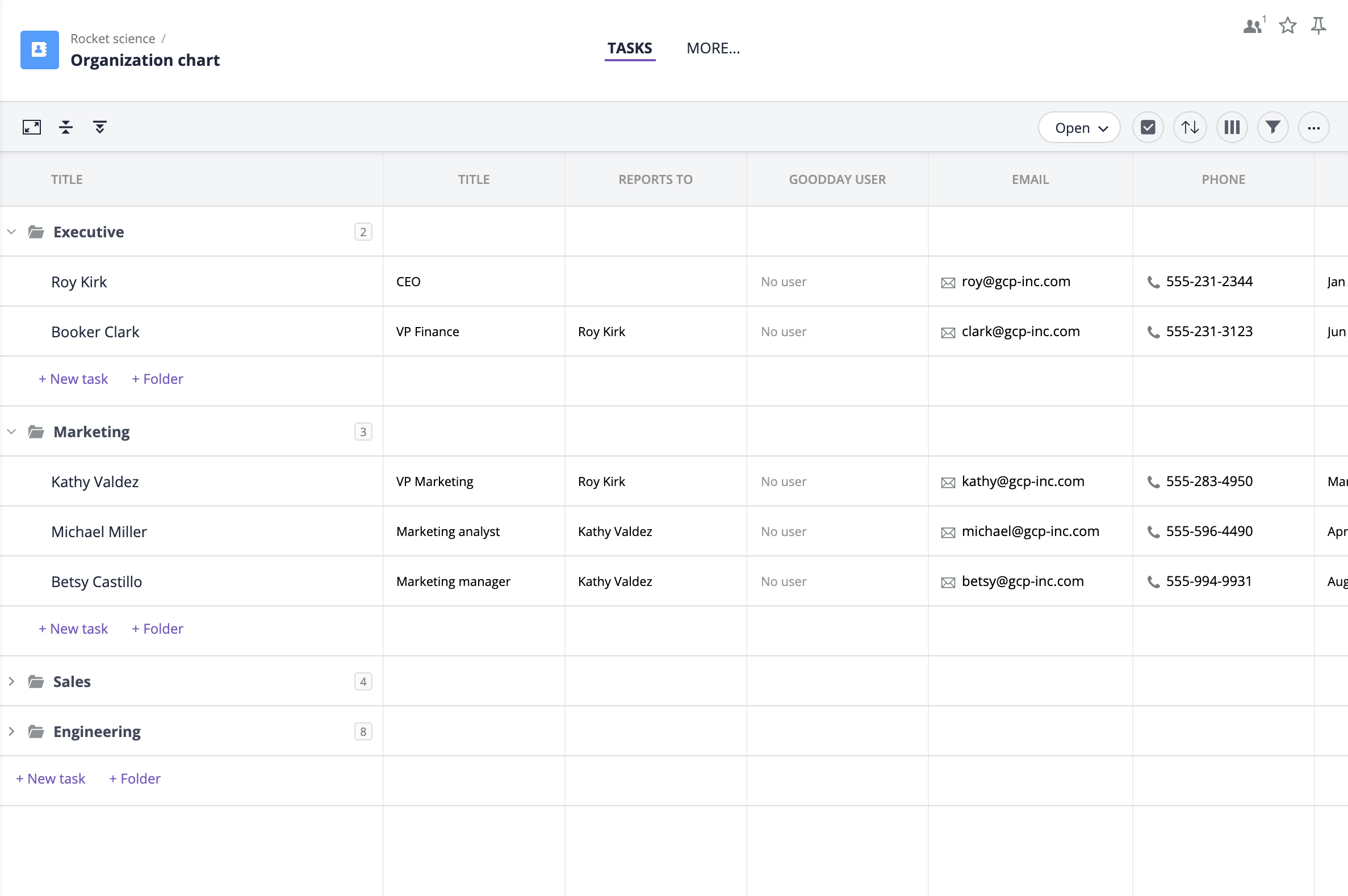 Who needs the organizational chart template?
Every organization needs an easy way to visualize their org structure. GoodDay org chart template is easy to use and can be customized to fit every company.
What the organizational chart template looks like
The organizational chart maker has several key features that you can use to help you better organize your company or business. Here are some of the features you will find very useful;
Org Chart Table
GoodDay org chart template offers a simple and intuitive table view to record, organize, and visualize key information about all team members. You can simply list all your employees or organize them by department, location, and more, using multiple folder nesting levels.
Custom Fields for Details
One of the things that stands out in our organizational chart tool is the ability to add custom fields. Record all team member details in one place, from basics such as name and title, to birthdays, locations, reporting details and more.
Sharing
For better communication and full transparency, you can easily share the org chart with all GoodDay users, export it, or print out using a printer-friendly version.
The benefits of using GoodDay organizational chart template
With this flexible template, your day-to-day work will become easier and more streamlined, and here is why:
Easy to use
Using this company organizational chart template is as easy as it gets. You don't need any technical expertise in order to create your own org chart using this template, just gather your data and get going. You can start with the basic information for your team members and then add as you grow.
Flexible
We understand that companies are structured differently, and that's why we have a template that suits everyone. Irrespective of the size, structure, or the amount of detail you will need to record, GoodDay organizational chart tool is built to accommodate and hold all your information in a well-structured way that is also easy to share, present, and update.
Easy to get started
At times, signing up for online software takes too long to even try it. That's not the case with GoodDay, as signing up is as easy as one-two-three. Just fill in your basic information, invite your team members, and you will be on your way. After this quick registration, you will see a brief walkthrough demo that will help you get started with GoodDay quickly and without any stress.
Running a company or managing a team has never been this easy. With GoodDay organizational chart, you can create your own unique org chart that will make your internal communication and record keeping much easier. Say goodbye to confusion and miscommunication within your team with this tool. Help everyone find details on team members, including their tasks and responsibilities, all in one place. The organizational flow chart template is the answer you need.
Being organized helps boost productivity and the goodday.work organization chart maker will help keep you very well organized. Try it today!
Template details
Budget
Title
GoodDay user
Email
Phone
Birthday
Reports to